BEAR MOUNTAIN BIKE ADVENTURE – MTB Croatia, Zagreb
TRIP INFO
Activities: biking (3 hours, 24 km/15 mi)

Location: Zagreb and Medvednica Nature Park
Level: easy/moderate (more challenging routes on request)
Terrain:
wide bike paths and gravel roads, mostly downhill (some uphills)
Season: April-October
Start: 9.30 h/15 h
Group 4 persons or more: 49 € per person

Group 2-3 persons: 67 € per person

Included: pick up from your Zagreb accommodation (central Zagreb area), biking with guide and equipment (bike and helmet), basic insurance
Group size: we are specialized in small group travel ensuring a personalized experience. In case you consider bringing a bigger group, feel free to contact us for group discount.
Self-guided version: 37 € per person for a minimum of 2 persons; includes self-guided biking, pick up from your Zagreb accommodation, equipment (bike, helmet, map, bike lock, spare parts), map, instructions, insurance, assistance in case of emergency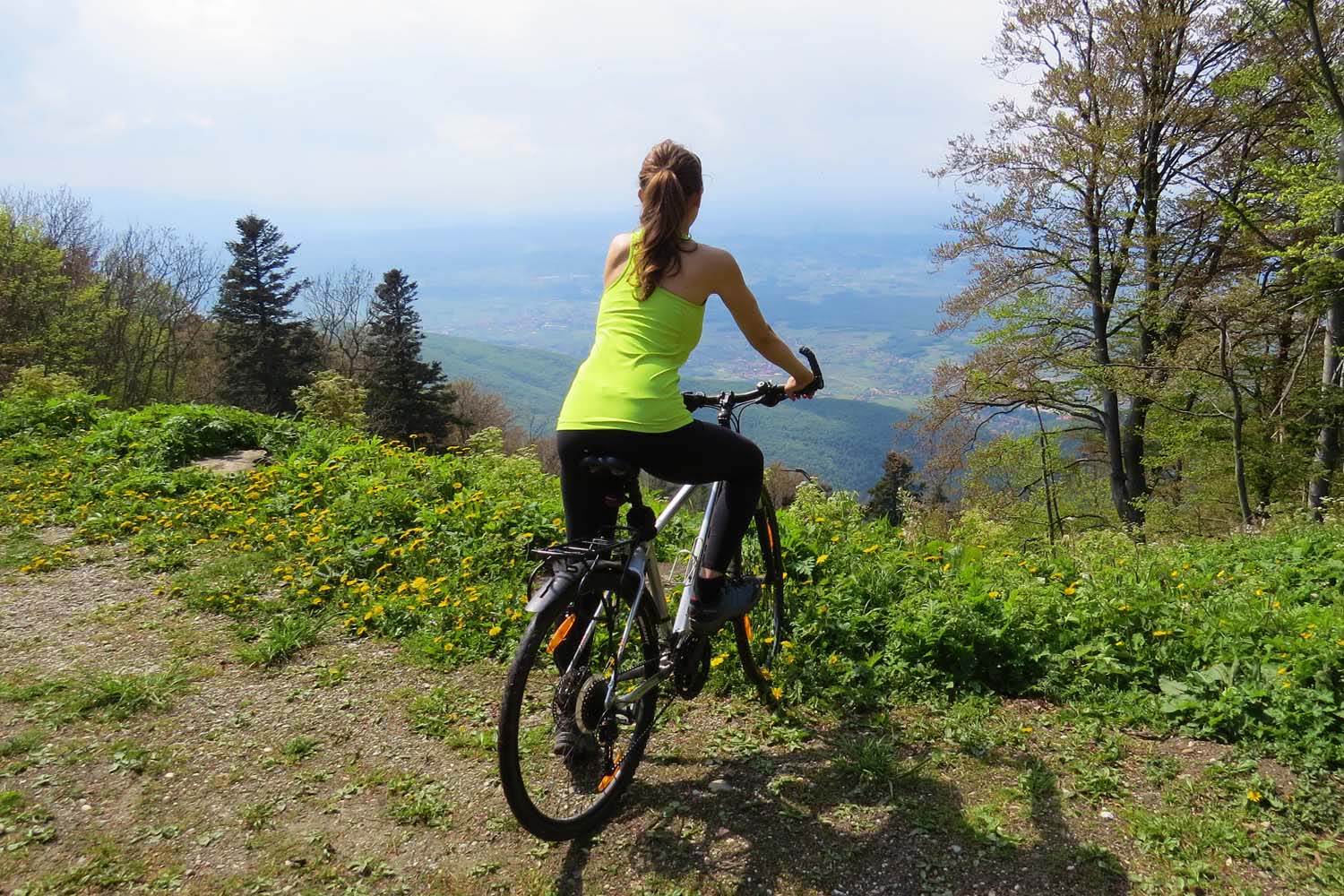 BEAR MOUNTAIN BIKE ADVENTURE
MTB Croatia, Zagreb
Drive to the top of "Bear Mountain" that embraces the Croatian capital city Zagreb

Bike down through 1 nature park and 2 forest parks

Enjoy beautiful nature and fresh air while riding the exciting forest paths

Admire amazing views over the city and the region of Zagorje on the other

side
Mount Medvednica that embraces the Croatian capital city Zagreb is a unique example of preserved nature at the doorstep of a large city. The name Medvednica could be translated as "bear mountain" (medvjed means bear in Croatian). It is a favourite hiking, mountain biking and skiing destination for the citizens of Zagreb and its visitors, proclaimed nature park to protect its rich and diverse living world.
Some of the highlights of this fun ride that deserve to be mentioned are amazing views over Zagreb and the region of Zagorje which is on the other side of the massif, as well as Medvednica's dense forests and fresh air ideal to escape the summer heats and city hustle.
We will pick you up at your accommodation in Zagreb and drive to the mountaintop (please contact us to arrange the exact pickup time and place).
Please note that you can also choose to take the cable car to the top (https://zagrebcablecar.com/), please contact us if you prefer that option and we'll send you details.
The highest peak Sljeme (1033 m or 3389 ft) will be our starting point. From there we will make our way down the gravel road and trails through the forest, take breaks to enjoy the peaceful atmosphere, and have an optional picnic. Continuing down we reach the outskirts of Zagreb, riding through the parks and finishing in the city center of Zagreb. 
If you decide to opt for the self-guided version you are welcome to choose your own route and ride at your own pace. You will get a map and instructions based on your preferences, desired difficulty level, and duration.
EQUIPMENT
We provide bikes and helmets (plus map, bike locks and spare parts for the self-guided version)

Things to bring: comfortable clothes for biking, water bottle, waterproof jacket, long sleeve shirt beacuse of the lower temperatures at the mountain top

Minimum age 14. Children must be accompanied by a parent or guardian.

In the unlikely case of extreme weather conditions or heavy rains that might cause the paths to be unsuitable for biking, Go Explore Croatia re-schedules all MTB Croatia activities for a day or two prior or after the date booked, if possible. If the change is not possible, the payments will be refunded in full.