ZRMANJA RIVER KAYAKING/RAFTING – Tailor Made Adventures in Croatia
TRIP INFO
Location: Kastel Zegarski

Level: easy/moderate
Duration: 4-5 hours
Season: May-September
Activities: kayaking or rafting (4-5 hours), swimming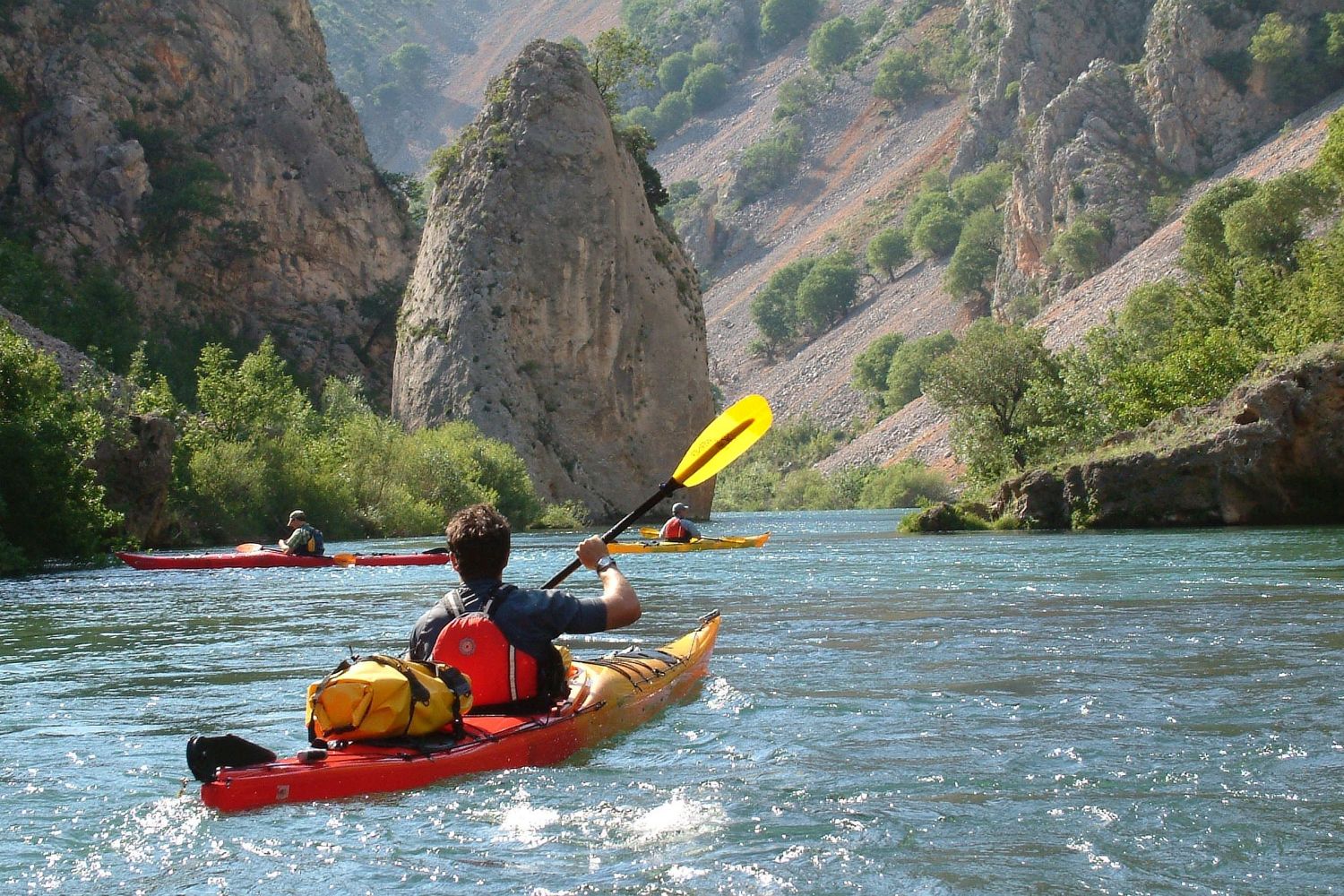 ZRMANJA RIVER KAYAKING/RAFTING
If you like being outdoors and active, Zrmanja River is the right choice for you. Whether it is your first time holding a paddle or you have paddling experience you will equally enjoy this trip. The choice between rafting and kayaking will be made depending on water levels. Usually the kayaking takes place between mid June and end of September.
Upon your arrival, the guides will help you with the preparation. You will get a waterproof barrel for your picnic, towels, water, sun cream, camera or any other personal item. Once you are ready, we will give you a life jacket, a helmet, a paddle (a neoprene suit and a rain jacket in case of colder weather) and in no time we will turn you into a professional-looking paddler. Finally, your trip leader will give you safety instructions and teach you how to steer the boat and you are off!
On the first part of the river, which is calmer, you will get to practice your steering and paddling skills. So, just by the time you get hungry, we will take you to the beautiful Krupa River for a picnic and swimming break. We the continue paddling through rapids, down waterfalls, swimming and witnessing the beauty of nature to its fullest. The trip ends in Muskovci village where you change into dry clothes.
No previous paddling experience is required. So, even children from 6 years of age, accompanied by parents, can participate. We use two-person sit-on-top canoes or inflatable rafts which are easy and safe to navigate. Don't forget to bring a swimsuit, shorts, a T-shirt, water shoes, and dry clothes to change into later.
PROGRAM
10:00 – arrive at the meeting destination – Kaštel Zegarski village.
10:35 – prepare for the trip and safety talk provided by the trip leader.
10:45 – start the trip.
12:00 – swimming and jumping at the big waterfall.
13:00 – continuing the river trip.
14:30 – finishing up the trip.
The program can be customised according to your wishes.
Be sure to contact us if you are interested in adding this trip to your tailor made adventure!
gorana
2021-04-13T20:35:17+00:00