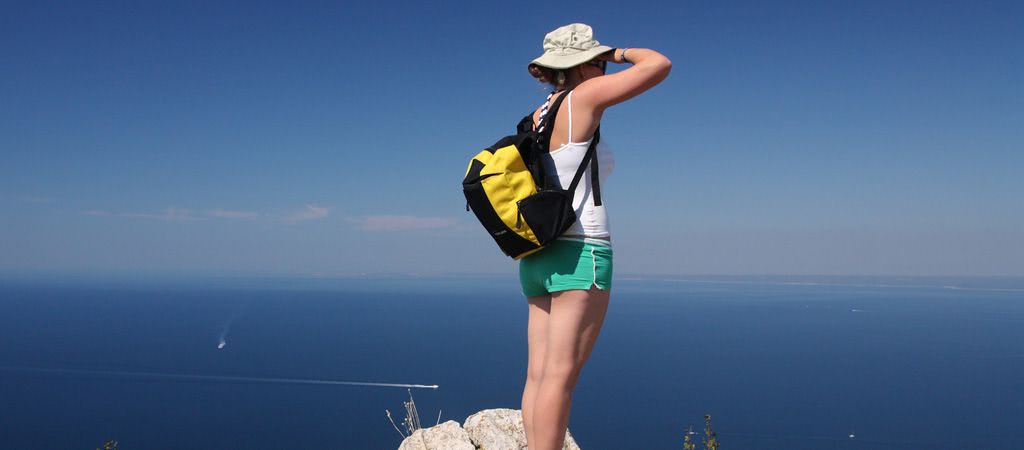 CROATIA NATIONAL PARK HIKING PLUS
6 days / 5 nights
7-12 July 2019
OVERVIEW – Croatia National Park Hiking Plus
Croatia National Park Hiking Plus
This holiday was designed for all those who love to walk through beautiful nature while exploring local culture, history and gastronomy. We have put together an amazing itinerary that includes 5 of the best Croatian national parks and 1 nature park with an accent on a rich variety of landscapes you will get a chance to admire along the way – mountains, hills, rivers, lakes, waterfalls, Adriatic Sea and coast.
Time in between the hikes will be spent enjoying the local atmosphere and experiencing how the people in these regions live, while savoring some tasty berry strudel and forest soup or Mediterranean fish, wine and olive oil.
Come and discover Croatia's incredibly preserved nature, medieval towns, rustic villages, old monuments, folklore, music, history and tradition more than 2000 years old. Join us on this trip of a lifetime and discover why Croatia is called a small country for a big adventure…
ITINERARY
Day 1: Arrival

Day 2: Risnjak National Park

Day 3: Northern Velebit National Park


Day 4: Plitvice Lakes National Park & Velebit Nature Park



Day 5: Paklenica National Park & Krka River National Park


Day 6: Departure



DETAILED ITINERARY – Croatia National Park Hiking Plus
Day 1: Arrival to Zagreb
Our first encounter for Croatia National Park Hiking Tour will be in Zagreb or Rijeka. You will be picked up from the airport, bus/train station or your hotel and head to Gorski Kotar.

Gorski Kotar is the mountain region popularly known as the "Green Lungs of Croatia" because of its magical dense forests and fresh air. The charm of this area also lies in the fact that it's not very touristy. It's a real jewel still waiting to be discovered, ideal for a peaceful and rejuvenating vacation.

We will all get together for a welcome dinner, meet our fellow travelers and learn more about the adventures that are waiting for us this week.

Night:
guesthouse in Gorski Kotar
Driving:
1h-1h45, depending on the airport
Day 2:
Risnjak National Park
This first morning we wake up near the entrance to Risnjak, the National Park that was named after its most popular inhabitant – the lynx or "ris" in Croatian. It encompasses Risnjak and Snjeznik mountain ranges and the source area of the River Kupa. The Park is equally attractive in all seasons: in winter, when covered with snow; in spring, when its meadows transform into carpets of flowers; in summer, when it offers relief from the heat, and in autumn, when the trees bathe in a myriad of colors.
Our goal will be Big Risnjak (1528 m), its highest peak, and we will have time for a deserved break in the hut just below it. Weather permitting, we will be able to admire the views of the Adriatic Sea, neighboring Slovenia and even the Alps. An alternative is a gentler hike in the Kupa River Valley, often described as the magnificent valley of butterflies.
Night:
guesthouse in Gorski Kotar
Driving:
up to 25 min each way

; Hiking:

5-6 hours for the Big Risnjak hike
Day 3:
Northern Velebit National Park
While we like to say that we will conquer a mountain, Velebit is a kind of a mountain that conquers its visitors. Northern Velebit, the youngest Croatian national park, is just one small part of this magnificent mountain and recognized for its preserved biodiversity, richness of the natural phenomena and pristine wilderness. We will hike along one part of the famous Premuzic Trail which was built at the beginning of the 20th century and named after its constructor. It runs along the mountain ridge through the most beautiful and inaccessible parts of the mountain with the Adriatic Sea and islands stretching on one side and the continental Croatia on the other. Since the trail was engineered to provide gentle hiking without any steep ascents or descents, we will have an easy and pleasant day enjoying beautiful nature.
After the trip we will head to Plitvice Lakes National Park surroundings where we will settle in one of the villages and feel the peaceful life in the Croatian countryside.
Night:
guesthouse in Plitvice National Park area
Driving:
2h+2h30

; Hiking:

3-4 hours
Day 4: Plitvice Lakes National Park & Velebit Nature Park

This morning we don't have to go too far, we are just a short drive away from the oldest Croatia national park and a UNESCO World Heritage Site. The sequence of 16 turquoise lakes linked together with beautiful waterfalls and travertine pools are really as beautiful as in the photos, even more. The lakes are surrounded by beech and pine forests and are home to extensive wildlife. We will walk by the lakes, past the waterfalls and the trails will occasionally lead us up to amazing viewpoints where you will be able to admire the complete picture of this amazing natural attraction.
After the walk we head south to explore the gorgeous canyons of Krupa & Zrmanja rivers which are a part of Velebit Nature Park. It's a real western movie setting and a perfect destination for all trekking lovers. Our hike starts in Golubici, a small village with a mere population of thirty. From there we head towards Kuda's Bridge over the Krupa. There is an intriguing and romantic legend about that bridge, you will definitely hear its story.
We stay overnight in a little coastal town enjoying the special energy that the fusion between the mountain and the sea creates.

Night: 
guesthouse in Starigrad or surroundings
Driving: 2h30; Walking:
6 hours
Day 5: Paklenica National Park & Krka River National Park

Paklenica National Park encompasses the small and the big Paklenica canyons and their surrounding area. We will hike along the big one (Velika Paklenica) and make our way to one of the nicest huts in the canyon. Apart from being a paradise for hikers, Paklenica is a worldwide known climbing destination due to its amazing rock formations.
After the hike we will head south to Krka River National Park. With its seven travertine waterfalls and total drop of 242 m, the Krka River is one of the most beautiful natural and karst phenomena in Croatia. The main attraction is the big Skradinski Buk waterfall. We will explore the area walking by the refreshing waterfalls and maybe even take a swim in the river if you feel like it.
And before you know it, our tour has come to an end. To celebrate our amazing adventure we will have a final dinner together and exchange experiences before saying goodbye to each other.
Driving: 1 hour; Hiking:
4 hours
The itinerary of this tour is subject to change without prior notice. Our primary concern is the safety and comfort of our guests. Every reasonable effort will be made to operate the program as planned, but alterations may still occur due to weather conditions, water levels, group preferences and abilities and other exceptional situations.
Day 6: Departure
Today we transfer you to the airport, bus station or your next hotel. The closest airports are Zadar and Split.
If you wish to spend more time Croatia and for example visit Split region feel free to contact us for recommendations.
PRICES & DATES – Croatia National Park Hiking Plus
PRICES
Child discount:

 

10%

Family and small group discount: 10%

Single room supplement:

 

20%
All prices are per person
Prices are fixed in Euros
You are welcome to use the currency converter on this page to calculate the approximate value in your desired currency. If you wish to pay in another currency than the Euro, the exact value will be calculated according to the exchange rate of the Croatian National Bank on the day of booking.
Child discount: 10 % off for children 8-12 years old
Please note that all children on this Croatia National Park Hiking Tour must be at least 8 years old and accompanied by a parent or legal guardian. One child enjoying discount shares the room with the parents; 2 or more children can have their own room.
Family or small group discount: 10 % off for parties of 4 persons or more
Child and family discounts are not cummulative.
Single room supplement: 20 %
If you are travelling alone and wish to share a room with another fellow traveler during the Croatia National Park Hiking Tour, that might be possible; please contact us for details.
PRICE INCLUDES:
5 nights' accommodation
halfboard
transfer from Zagreb

or Rijeka airport

transfer to Zadar, Split, Zagreb or Rijeka airport

transport throughout the trip
National Parks entrances
English speaking guide
use of walking poles (upon request)
basic insurance
local taxes
PRICE DOES NOT INCLUDE:
airfare to/from Croatia
beverages
IMPORTANT DETAILS – Croatia National Park Hiking Plus
IMPORTANT DETAILS
Group size: 4-8 persons (bigger groups and group discounts on request).
Feel free to contact us for a quote in case you are interested in a private trip.
Meals: the price includes halfboard meals. Our guides will be happy to recommend you a local restaurant or grocery store for the meals that are not included in the tour. We can provide vegetarian meals with advance notice. If you have any special dietary needs or restrictions, please let us know as soon as possible.
Accommodation marked as guesthouse in the itinerary can sometimes be a B&B type of stay or typical homestay where local hosts rent out rooms with en-suite bathroom or studio apartments. For families or groups of friends, it is sometimes possible to get a whole private house or apartment just for you with 2 rooms sharing 1 bathroom. If you prefer to have a hotel stay throughout the trip, please contact us for details and surcharge.

We recommend you to purchase additional travel insurance for this tour. All our guests are insured from personal injuries that may occur during local transfers or while participating in our organized open air activities.