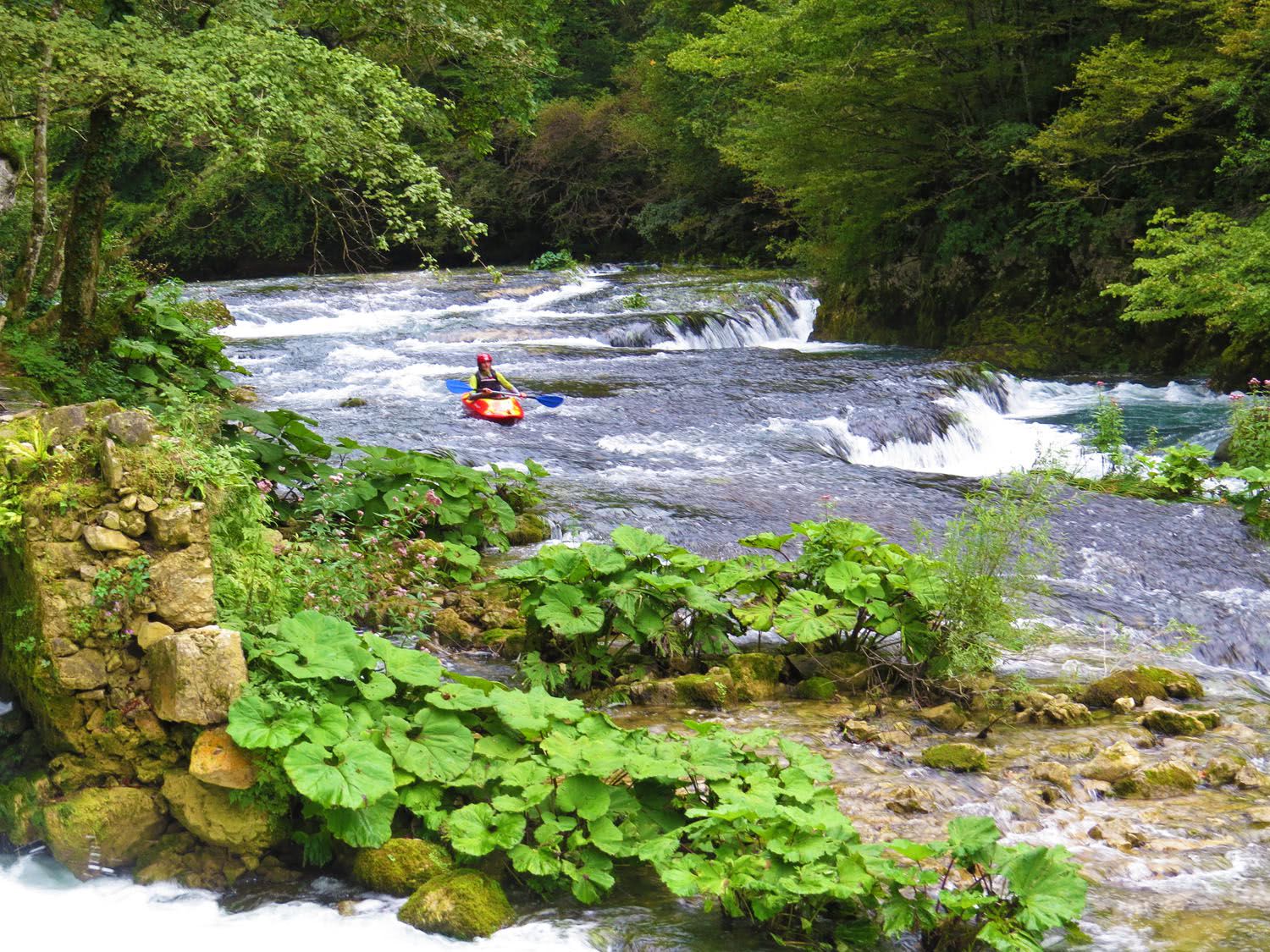 CLEAR RIVERS COUNTRY MULTISPORT
8 days / 7 nights
OVERVIEW – Clear Rivers Country Multisport
Active multisport trip in the greenest areas of Croatia
This multi activity adventure holiday will take you along the Mreznica River, through Plitvice Lakes National Park and to the Una River in Bosnia. You will explore this unique area on foot, by bike, on a Stand Up Paddle Board (SUP), from a kayak and raft. Our guides will seize every opportunity to steer you away from the busy everyday life ensuring a truly memorable experience which you will cherish for many years to come. The Mreznica is considered one of Croatia's cleanest rivers, with plenty of great places for swimming, canoeing, stand up paddle boarding, kayaking and rafting. The river is 64 km long, and is special for its 93 waterfalls and pools of warm water between them, perfect for refreshment away from beach crowds. Clear green water, unspoiled woods and magical landscapes make it one of Croatia's most desirable continental retreats.
The accommodation is a friendly, family-run, 3* hotel on the bank of the Mreznica River, approximately one hour drive from Zagreb and Rijeka airports. The restaurant overlooks an old mill close to a small waterfall and serves freshly caught fish, as well as home-grown vegetables. Barbecues are also a speciality of the house. All rooms are equipped with en suite bathrooms, TV, mini bar, telephone, air conditioning and have Internet access.
ITINERARY
Day 1: Arrival

Day 2: Kayaking&SUP Mreznica River

Day 3: Walking Plitvice National Park

Day 4: Cycling Mreznica River area

Day 5: Optional trip day

Day 6: Rafting Una River

Day 7: Kayaking Mreznica Canyon

Day 8: Departure
DETAILED ITINERARY – Clear Rivers Country Multisport
Day 1: Arrival
Arrival to Croatia. Our guide will be waiting for you at Zagreb or Rijeka airport, bus or train station. If previously arranged, the pickup may be at Karlovac or Zvecaj bus or train station. You will be transferred to your accommodation 70 km from Zagreb in Zvecaj village, by the Mreznica River. After settling into your room, you can have a drink on the terrace overlooking the Mreznica and its waterfalls, walk by the river, go for a swim or just relax. Meet the other members of the group over dinner and discuss the upcoming itinerary with your guide.
Night: 3* hotel by the Mreznica River
Driving: 1h30 from the airport
Day 2: Walking in Plitvice Lakes National Park
Early in the morning we start our ride through lovely countryside roads towards Plitvice Lakes, Croatia's first National Park. Once at Plitvice, we have the day to explore it on foot. Plitvice Lakes National Park is a spectacular geological and hydrogeological karst phenomenon, a sequence of sixteen turquoise lakes linked together with cascading falls and travertine pools. The lakes are surrounded by beech and pine forests and are home to extensive wildlife. The richness of flora and fauna attracts visitors and scientists from all over the world. UNESCO has declared it with all rights as a World Natural Heritage site. We'll walk through the National Park following narrow paths, crossing over wooden bridges and even taking a boat ride on Lake Kozjak.
Night: 3* hotel by the Mreznica River
Meals: B and D (picnic lunch on your own); Walking: 4-5 hours, easy; Drive: 1h45 each way
Day 3: Kayaking and SUP on the Mreznica River
The day of water activities on the Mreznica starts with kayaking in front of the hotel. We use two-person sit-on-top kayaks which are easy and safe to navigate. After a short introduction to paddling, we push off upstream for a refreshing fun on the clear, warm and emerald waters of this river with numerous waterfalls. Due to its biological diversity and variety of habitats, the Mreznica area should soon be categorized as a Croatian Nature Park. It is home to many endangered and protected plant and animal species that you may get a chance to observe. These include 4 species of birds from the "red list" of the International Union for the Conservation of Nature – the Golden Eagle, the Lesser Spotted Eagle, the Western Capercaillie and the Great White Egret. After a light picnic, we'll paddle back to the hotel.
In the afternoon we will change our kayaks with stand up paddle boards and discover the river bed from a different perspective. Starting with short introduction you will have an active yet easy afternoon to start of the week. The day will be filled with swimming, jumping off the waterfalls and enjoying beautiful nature. Later in the afternoon we will have some free time to rest and will end the day with a group dinner on the restaurant terrace.
(Please note that in case of high water levels we use rafting boats.)
Night: 3* hotel by the Mreznica River
Meals: B and D (picnic lunch on your own); Kayaking: 2-3 hours, class I-II; SUP: 2 hours, easy/moderate
Day 4: Cycling in the Mreznica Area
A well-paced bike tour through villages and along country roads is a great way to experience Croatia much more closely than from a vehicle. There are many trails in the Mreznica area well-adapted for cycling tours. We'll start from the hotel and meander past numerous small family farms and homesteads. There are great places to take breaks along the road and look out over the valleys and fields. You will be able to go for a swim in the river and enjoy a picnic lunch on the bank. Those who still want to explore the area after the tour are free bike to other places of interests on their own, with directions given by the guide.
Night: 3* hotel by the Mreznica River
Cycling: 3 hours, easy/moderate (rolling hills)
Day 5: Optional Trip Day
Today you can be as active as you wish. You can relax by the river, swim, play beach volleyball or even take another optional bike tour on your own. Several optional trips will be proposed in case you are keen on discovering more beauties that Croatia has to offer: day on the Adriatic Sea, hiking in national parks, river canoeing and sightseeing.
Night: 3* hotel by the Mreznica River
Meals: B and D (picnic lunch on your own); Drive: maximum 2h each way
Day 6: Una River Rafting
The Una River forms a natural border between Croatia and Bosnia. It will steal your heart with its beauty, green clear water and a landscape of dense forests. The Una is rich in water even in summer so rafting is possible all year round. There are several sections to choose from, and our guides will select the one that is best adapted to group abilities and current water levels. In months when water levels are lower (July, August, September) additional Mreznica kayaking trip will be proposed as a substitute to avoid long driving time.
Night: 3* hotel by the Mreznica River
Meals: B, L, D; Rafting: 2-3 hours, class I-IV, easy/moderate; Drive: 2.5 hours each way
Day 7: Kayaking in the Mreznica River Canyon
We return to the river this morning in the upper Mreznica canyon. Our route takes us from the hotel to a point approximately 45 minutes away where we'll start our expedition into the canyon. We travel through a gorge so narrow and deep that the sun enters for only a few hours each day, around noon, creating spectacular light effects. Paddling past cliffs of carved white rocks, lush vegetation and cascading waterfalls, we will arrive at a strong freshwater spring. We continue our journey to the second highest waterfall on the Mreznica (8m), a magical place ideal for swimming and a picnic. After a break, we continue and finish the adventure and finally return to the hotel in the late afternoon.
Please note that in case of very low water levels the trip can only be done downstream – in that case the duration of kayaking is 2-3 hours. In case of high water levels we use rafting boats (2 hours of rafting).
Night: 3* hotel by the Mreznica River
Meals: B and D (picnic lunch on your own); Kayaking: 4 – 5 hours, class II-III, moderate; Drive: 45 min each way
The itinerary of Clear Rivers Country Multisport is subject to change without prior notice. Our primary concern is the safety and comfort of our guests. Every reasonable effort will be made to operate the program as planned, but alterations may still occur due to weather conditions, water levels, group preferences and abilities and other exceptional situations.
Day 8: Departure
Depart from Zvecaj Village to Zagreb or Rijeka airport and flight home. You are welcome to schedule your homeward transport for any time. If you decide to spend more time in Croatia, our guides will be happy to recommend other beautiful places to visit – especially those you won't find in tourist guide books.
Meals: B; Drive: 1h30 to the airport
PRICES & DATES – Clear Rivers Country Multisport
PRICES
Until Jun 1: 990 €
Jun 3-Jun 23: 1140 €
Jun 24-Sept 1: 1190 €
Sept 2-15: 1140

 €

Sept 16-Sept 30: 990 €
Child discount:

 

10%

Single room supplement:

 

20%
All prices are per person
Prices are fixed in Euros
You are welcome to use the currency converter on this page to calculate the approximate value in your desired currency. If you wish to pay in another currency than the Euro, the exact value will be calculated according to the exchange rate of the Croatian National Bank on the day of booking.
Child discount: 10 % off for children 8-12 years old
Please note that all children must be at least 8 years old and accompanied by a parent or legal guardian to participate in Clear Rivers Country Multisport. One child enjoying discount shares the room with the parents; 2 or more children can have their own room.
Single room supplement: 20 %
If you are travelling alone and wish to share a room with another fellow traveler during this Clear Rivers Country Multisport, that might be possible; please contact us for details.
PRICE INCLUDES:
7 nights accommodation (3*** hotel, en suite bathroom)
halfboard
use of bicycles, kayaks, canoes, rafts, SUP, paddles, life jackets, helmets
5 days of organized activities
use of neoprene shorts and booties or sandals in case of cold weather
Plitvice Lakes National Park entrance fee
local taxes
transfers from Zagreb or Rijeka airport, bus or train station
ground transportation (private transport throughout)
skilled English speaking guide and assistance
insurance
PRICE DOES NOT INCLUDE:
airfare
drinks
meals not indicated in the itinerary
tips or other personal expenses
optional trips
MAY: 20, 27
JUNE: 3, 10, 17, 24
JULY: 1, 8, 15, 22, 29
AUGUST: 5, 12, 19, 26
SEPTEMBER: 2, 9, 16, 23
IMPORTANT DETAILS – Clear Rivers Country Multisport
Arrival and departure airports: Zagreb or Rijeka
Arrival and departure transfers: several group transfers between the airport and destination depending on arrival/departure time. Arrivals after 6 pm may be subject to surcharge of 30 euros per transfer.
Maximum number of participants: 16 guests per group. Larger groups upon request.
Optional trips are not included in price and can be booked and paid on spot. Optional trips cost approximately 40 – 70 € per person and are dependent on suitable weather conditions. The price is based on a minimum of 4 participants.
Feel free to contact us for a quote in case you are interested in a private trip.

We recommend you to purchase additional travel insurance for this trip. All our guests are insured from personal injuries that may occur during local transfers or while participating in our organized open air activities.