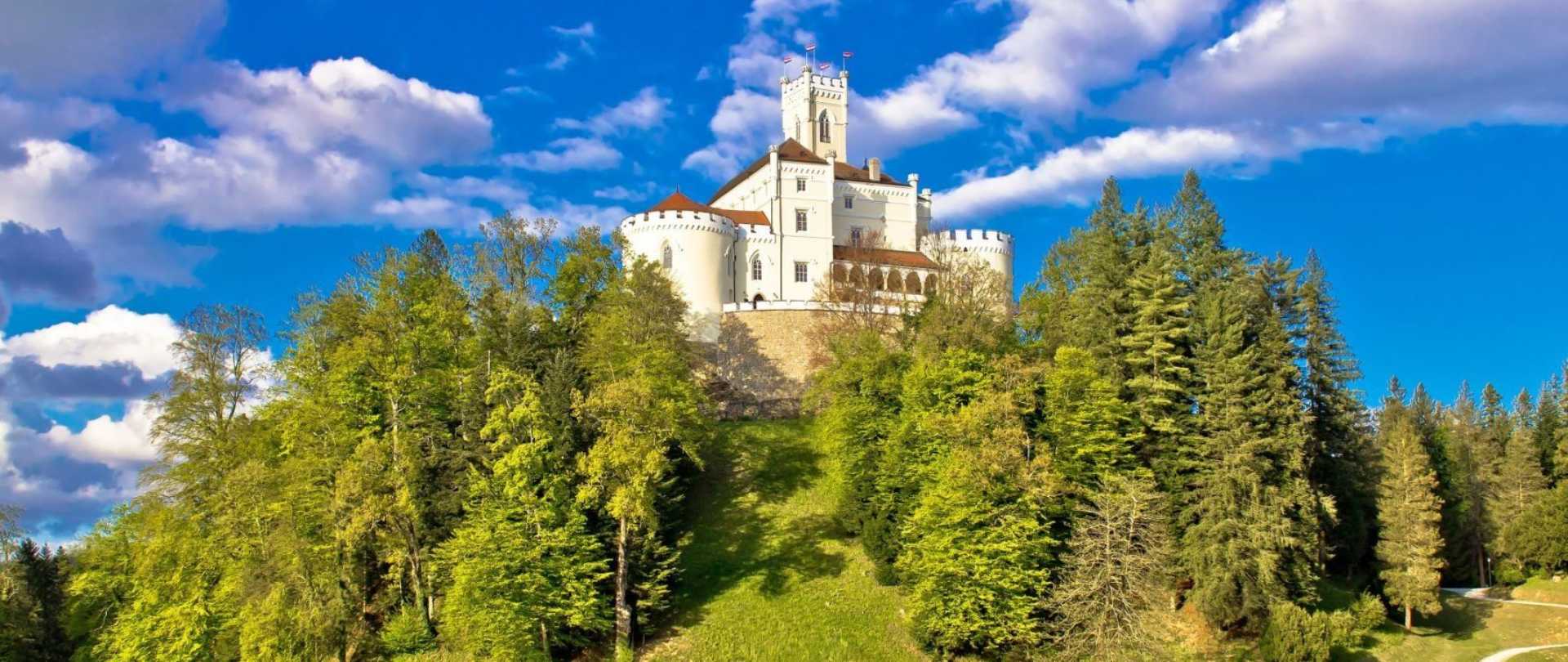 HIKING & TRAKOSCAN CASTLE
Day trip from Zagreb
TRAKOSCAN CASTLE & HIKING – Day trip from Zagreb
TRIP INFO
Activities: hiking (4 h), castle visit (1 h)
Level: moderate
Season: All year round
Start/end: 8:30 h/17 h
Group 1-4 persons: 1900 kn (260 €) per group

Group size: we are specialized in small group travel ensuring a personalized experience so you will probably be alone on the trip or in a group up to 8 people maximum. If you want to be sure to have a private trip, we charge a 20% supplement. In case you consider bringing a bigger group, feel free to contact us for group discount.

Included: hiking with guide, round trip transfer from your Zagreb accommodation, insurance
Not included: Trakoscan castle entrance (40 kn adults, 20 kn children up to 18 yrs), lunch (restaurant or picnic)
TRAKOSCAN CASTLE & HIKING – Day trip from Zagreb
Hike on Mt Ravna Gora passing by authentic villages, vineyards and charming countryside
Visit Trakoscan, one of the most attractive and most visited castles in Croatia, located on the hills of Croatian Zagorje

Experience a unique combination of activity, nature and culture
This authentic hiking trip takes us from Zagreb to charming Zagorje, a region filled with green hills, vineyards, castles and beautiful nature. Mt Ravna Gora is ideal for a moderate level hike that passes through the forest, local villages and up to the mountain hut which will be one of our today's goals.
Another highlight of the trip is famous Trakoscan Castle. Built in the 13th century it was originally a small medieval castle. One of the legends says it was named after the knights Drachenstein who ruled the region in the early Middle Ages. Owned by different lords and noble families in the past, Trakoscan is now property of Republic of Croatia, a cultural monument of highest category renovated in neo-Gothic style. Besides excellent reconstruction, it offers valuable examples of baroque furniture, different weapons used from 15th to 19th century and other small items. Moreover, a beautiful romantic garden, built on the model of English parks, and a large lake in front of the castle is something that should not be missed. You will explore the castle at your own pace and on your own, with basic information given to you by your guide. More info about the castle can be found here.
Optionally you can decide to visit Varazdin, the city of baroque, flowers and music that proudly carries name of 'Little Vienna'.
PROGRAM
We will pick you up in your Zagreb accommodation and start with a 1 hour drive to Trakoscan Castle. Depending on group preferences we will visit the castle and its lake before or after the hike.
The hike starts at the parking of Hotel Trakoscan at 243 meters (797 ft) overlooking the castle. We will hike on Mt Ravna Gora for some 2 hours until we reach our goal, the mountain hut Pusti duh at 680 meters (2230 ft) where we will have a nice break. One part of the descent will be different as we will be taking another trail than during the ascent.
If you decide you have enough time you can decide to visit Varazdin town after the hike & castle visit, you can decide about that on spot. This visit will extend the duration of the trip for another 2 hours approximately.
The trip ends with a drop off in your Zagreb accommodation.
EQUIPMENT
Recommended things to bring: hiking shoes, small backpack, water bottle, waterproof jacket, camera, pocket money
NOTES
The prices in EUR are approximate and may vary depending on the exchange rate.

Children must be accompanied by a parent or guardian

.

In the unlikely case of extreme weather conditions Go Explore Croatia will re-schedule all Zagreb day trips for a day or two prior or after the date booked, if possible. If the change is not possible, the payments will be refunded in full.