ENDURO ZAGREB MTB ADVENTURE
TRIP INFO
Activities: mountain biking (5 hours, 24-30 km/15-19 mi)
Location: Zagreb and Medvednica Nature Park
Level: advanced (only for experienced riders with high skill level)
Terrain: hand shaped single tracks, loamy dirt, roots and rocks
Season: April-October
Start/end: 9 h/15 h
Group 4 persons or more: 330 kn / 45 € per person

Group 2-3 persons: 430 kn / 60 € per person

Trip for 1 person: 740 kn / 100 €

Included: round trip transfer from your Zagreb accommodation, biking with guide and equipment (bike and helmet), insurance
Group size: we are specialized in small group travel ensuring a personalized experience. In case you consider bringing a bigger group, feel free to contact us for group discount.
Self-guided version: contact us for a quote; includes self-guided biking, round trip transfer from your Zagreb accommodation, equipment (bike, helmet, map, bike lock, spare parts), map, instructions, insurance, assistance in case of emergency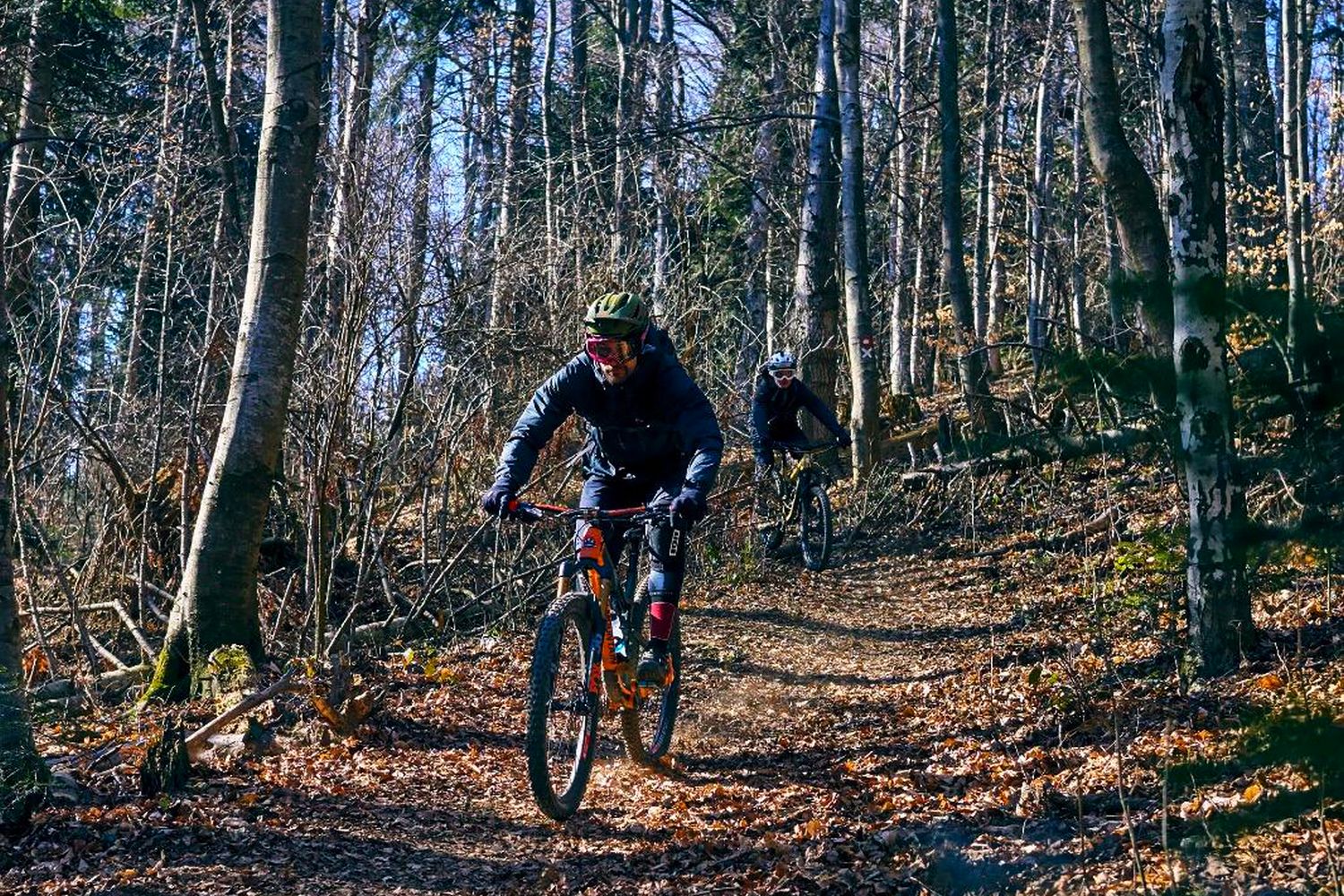 ENDURO ZAGREB MTB ADVENTURE
Shuttle service 5 uplifts

Bike down through Medvednica Nature Park on MTB specific single track trails that require experience and high skill levels (trails are maintained and updated periodically)
Enjoy beautiful nature and fresh air while riding
We are proud to offer you the complete shuttling enduro experience on newly developed MTB trails built a couple of year ago by local MTB trailbuilders. You can also opt for a Hardcore non-shuttling experience if you prefer. The trails are located on Medvednica Mountain (translation Bear Mountain) close to the peak Sljeme and offer a great way to experience the forest. The surface on the trail is mostly loamy dirt, some roots and a few rocks but not nearly as many as in our coastal region.
In the morning we meet up at the meet point near the mountain (or if don't have a car we can pick you up in your hotel). We offer shuttling services with our experienced guides to the top of the mountain and a few different exciting trails to ride down on. The trails are each around 5-6 km (3-4 mi) long and have some short climbs in them, but the route is mostly downhill.
During the ride you can opt for lunch in one of the mountain's best restaurants that offers traditional Croatian cuisine (dishes like "Zagrebački steak", "čevapćići", "buncek", "gulaš") and also vegetarian meals. This meal is optional so if you want you bring your sandwich, have a cup of coffee and enjoy the view. After a short break it's back to riding.
After the ride we can recommend some great local pubs near the meeting point that brew their own beer and offer excellent food. Here you can relax after a challenging day of riding.
EQUIPMENT
Bring your own bike, gear and spare parts. In most cases, we have a few tubes and tools on hand.
We recommend at least a full suspension all-mountain/trail bike with 120mm travel so you can experience the trails in all their glory.
You need to have a helmet and knee-pads as a required minimum. If you want us to provide some of the gear let us know.
We also recommend you bring water, waterproof jacket and a change of clothes.
Minimum age 14. Children must be accompanied by a parent or guardian.

In the unlikely case of extreme weather conditions or heavy rains that might cause the paths to be unsuitable for biking, Go Explore Croatia re-schedules all MTB Croatia activities for a day or two prior or after the date booked, if possible. If the change is not possible, the payments will be refunded in full.